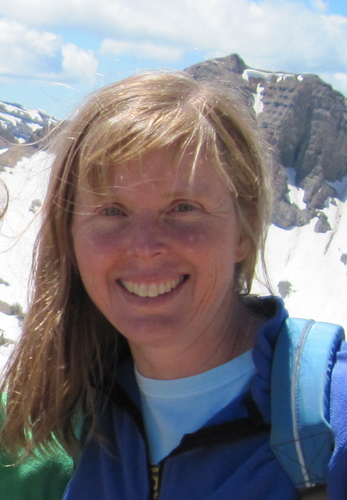 Susanna Leonard Hill is the award winning author of nearly a dozen books for children, including Punxsutawney Phyllis (A Book List Children's Pick and Amelia Bloomer Project choice),No Sword Fighting In The House (a Junior Library Guild selection), Can't Sleep Without Sheep (a Children's Book of The Month), and Not Yet, Rose (a Gold Mom's Choice Award Winner.) Her books have been translated into French, Dutch, German, and Japanese, with one hopefully forthcoming in Korean. Her newest book, Alphabedtime!, is forthcoming from Nancy Paulsen Books, an imprint of Penguin Books, in Fall 2015. She lives in New York's Mid-Hudson Valley with her husband, children, and two rescue dogs. http://susannahill.blogspot.com/
Linda Epstein is an Associate Agent at The Jennifer De Chiara Literary Agency in New York. Before joining the agency in 2011, she read manuscripts, book proposals, and queries at Folio Literary Management and was also a Submissions Manager at a small start-up literary agency. Linda did a short stint at the Jean V. Naggar Literary Agency and a longer stint at Meryl Zegarek Public Relations. Prior to that she was a Community Relations Manager at Barnes and Noble, where she set up author readings and signings and organized book groups and book fairs. Currently, Linda also oversees social media for the New York chapter of the Women's National Book Association, where she is the VP/Communications.
Linda graduated from University of Buffalo with a BA in English and Environmental Studies and went on for graduate work in Creative Writing at Temple University. Somehow she also seems to have picked up a BSN from New York University in her travels. Linda is a member of SCBWI and loves speaking at conferences and writing retreats. Some day she hopes to finish writing her own novel. http://theblabbermouthblog.com/
Dr. Uwe Stender, Founder and President of TriadaUS Literary Agency is a Full Member of the AAR (Association of Authors' Representatives). He received his Ph.D. in Literature from the University of Pittsburgh. He also studied at the University of California, Berkeley and the Universitaet Goettingen, Germany. He taught at both Carnegie Mellon University and the University of Pittsburgh and has been widely published in scholarly journals and books.
His best known clients are actress Melody Thomas Scott, CNN HLN and TruTV's In Session News Anchor Christi Paul, Eric Deggans,former CNN anchor Daryn Kagan, 4 time Grammy Award winning composer Lalo Schifrin ("Mission Impossible"), Elizabeth LaBan, Stacy Tornio, and legendary NBA referee Bob Delaney.
Uwe was a guest speaker at several major conferences including the SCWC in San Diego, the Crimebake (Mystery Writers of America New England Chapter), CAPA-U in Hartford, Connecticut, the Writers' League of Texas in Austin, Penn Writers, and he spoke on a panel at the Book Expo America in New York City.
He is always open to any strong fiction (current focus in fiction is YA, middle grade, Women's Fiction, Literary Fiction and Mysteries) and all non-fiction projects. http://www.triadaus.com/
Kate Karyus Quinn has two college degrees – a BFA in Theatre from Niagara University and an MFA in Film and Television Production from Chapman University.
After growing up in the suburbs of Buffalo, NY, Kate left her hometown for Southern California and film school. After finishing her degree, she moved with her husband to Knoxville, Tennessee. However, just recently she made the move back home, with her husband and two children in tow. She promised them wonderful people, amazing food, and weather that would… build character.
Kate is first and foremost an avid reader and unapologetic booknerd. Although, she mostly reads YA and romance, she often samples different genres in her constant search for the next great read.
Kate is represented by Alexandra Machinist of Janklow and Nesbit. Her young adult novel, ANOTHER LITTLE PIECE, is now available from HarperTeen wherever books are sold. Her next novel (DON'T YOU) FORGET ABOUT ME will be available in 2014 also from HarperTeen. http://www.katekaryusquinn.com/
Mindy McGinnis is an assistant YA librarian who lives in Ohio and cans her own food. She graduated from Otterbein University magna cum laude with a BA in English Literature and Religion. Mindy has a pond in her back yard but has never shot anyone, as her morals tend to cloud her vision.
She loves being a writer, because it's the only occupation where you can legitimately stare into space and claim to be working.
Mindy runs a blog for aspiring writers at Writer, Writer Pants on Fire, which features interviews with agents, established authors, and debut authors.
Learn how they landed their agents, what the submission process is really
like, and how it feels when you see your cover for the first time. Mindy does query critiques every Saturday on the Saturday Slash for those who are brave enough to volunteer.
Mindy also contributes to the group blogs From the Write Angle, The Lucky 13s, Friday the Thirteeners, The League of Extraordinary Writers & Book Pregnant. She is a member of the Class of 2k13 and a volunteer moderator for the writing community at AgentQuery Connect, under the screenname bigblackcat97.
Demitria Lunetta writes young adult science fiction and fantasy. A Chicago native, she holds a BA in Human Ecology and has spent countless hours studying the many ways in which people are capable of bringing about their own destruction. In case the end is near, she always carries a good book and a chocolate bar–the two items essential for post-apocalyptic survival.
IN THE AFTER is her debut novel and is an ABA (American Booksellers Association) 2013 ABC Best Books for Children and has been chosen as an Amazon Top Twenty Teen Book for 2013. Her second novel, IN THE END will be available June 24
th
, 2014.
http://demitrialunetta.blogspot.com/
Justina Ireland enjoys dark chocolate, dark humor, and is not too proud to admit that she's
still afraid of the dark. She is the author of VENGEANCE BOUND and PROMISE OF
SHADOWS. She lives with her husband, kid, and dog in Pennsylvania. You can visit her
Kelly Fiore has a BA in English from Salisbury University and an MFA in Poetry from West Virginia University. She received an Individual Artist Award from the Maryland State Arts Council in 2005 and 2009. Kelly's poetry has appeared in Small Spiral Notebook, Samzidada, Mid Atlantic Review, Connotation Press, and the Grolier Annual Review. Her first young adult novel, Taste Test, was released in August 2013 from Bloomsbury USA. Forthcoming books include Just Like the Movies, again from Bloomsbury, in 2014 and The People Vs. Cecelia Price from HarperTeen in 2015. Kelly teaches college composition in Maryland, where she lives with her husband and son.
You can connect with Kelly at her website (www.kellyfiorewrites.com), on Twitter (@kellyannfiore), or on Facebook (www.facebook.com/KellyFioreYAAuthor).
MORE AUTHORS TO BE ANNOUNCED!